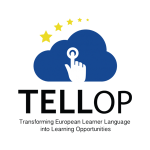 Interested in becoming an Associate Partner?
Are you or your institution interested in language learning, OERs, mobile learning and Data-driven learning / corpus linguistics applications and would like to collaborate?
We offer you an Associate Partnership Agreement to collaborate in the development and dissemination of the international project "TELL – OP: Transforming European Learner Language into Learning Opportunities". The University of Murcia will share some of the data, results and products, as deemed necessary by the parties, stemming from TELL-OP and will allow the Associate Partner to participate in the different activities related to the project.
You are solely responsible for obtaining the necessary permissions to sign this agreement on behalf of your institution. The University of Murcia will incorporate your information on the project website www.tellop.eu and related social media.
Send us an e-mail tellop@um.es or tweet us @euTELLOP for further information